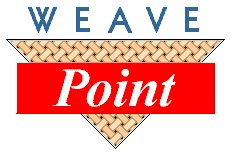 Basic WeavePoint taught Online via Zoom by Jannie Taylor
This one-session class is a great way for new users to gain basic skills or as a refresher before taking one of the more in-depth classes.  Using a combination of demonstration and guided practice in practical weaving situations, students will become more fluent WeavePoint users. This seminar is the perfect "prequel" to the Structure & Design classes.  
The step-by-step study guide will be there for you during and after the class. It will be sent as a PDF document along with a collection of drafts to be used during and after the workshop.
Skill Level: Beginner to intermediate. A good opportunity to prepare for a WeavePoint design workshop.
Duration: 3 Hour Workshop -- 9:30 am to 12:30 pm 
Location: This is an online course held via Zoom. 
Cancellation Policy
You may cancel your enrollment without penalty at any time up to 24 hours before the class. While the notice is appreciated, cancelling withing the 24 hour period before class will result in forfeiture of your class fee.
If AVL cancels a class, you are entitled to a full refund of your entire class payment amount.