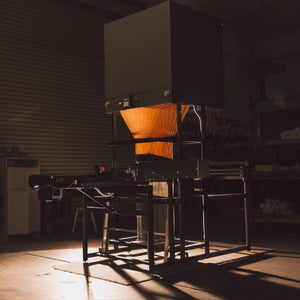 AVL has been building customized looms for years. Our customers include an impressive array of some of the top textile companies, cottage industry weavers and universities. Examples of custom looms we built include Jacquard-Rapier with Auto-Advancing Warp and Cloth Storage for sample production, Dobby-Jacquard loom with high tension heddle springs for rug weaving and fully automated Dobby loom for ultra-high warp tension weaving.
Our expert loom engineering staff will merge your application requirements with the best weaving technologies available to us and package them to suit your environment. AVL has expertise in the following:
Capabilities: 
Treadle, Mechanical Dobby, Computerized Dobby and Jacquard Warp Thread Selection
Hand Shuttle, Multi-box Flyshuttle and Multi-color Rapier Weft Thread Selection
Slipping and Locking Warp Braking
Automatically Advancing Warp and Cloth Systems
Manual, Semi- and Fully Automated Functions
Hardwood, Aluminum and Steel Construction
Additionally, we can build warping equipment and rigs. 
If you're interested in working together to build a Custom Loom, Contact Us today and we'd be happy to discuss your ideas!