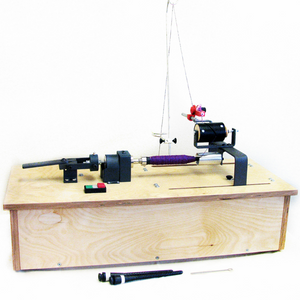 The AVL Automatic Bobbin Winder is the fastest and easiest way to wind bobbins. A perfect piece of equipment for production weavers with flyshuttles, the AVL Automatic Bobbin Winder winds perfect bobbins every time and helps to save time and improve efficiency. 
Includes:
Adjust-ability for different sized bobbins / pirns
Auto-tensioning device for perfect, consistent tension on your bobbin
Automatic stop
Easy to use push-button control.
Instruction Manual
Choose from 110VAC or 220VAC. Electrical specifications: 4A @ 110VAC / 2A @ 220VAC
1-Year AVL Warranty
 The ABW is built to order, so please allow 8-10 weeks plus delivery time.