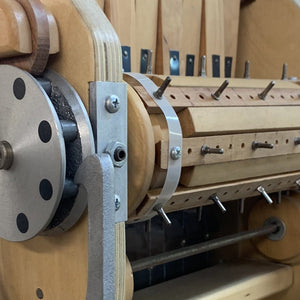 Made from mylar, the dobby linkage strips connect your dobby bars together and are designed for the AVL dobby cylinders spacing. Sold as a set of two.
Features:
Each strip holds 20 bars plus one extra hole for connecting to another chain or completing repeat loop. Two strips are required to secure both ends of the dobby bars.
Quieter and easier to use than the old metal chain.
Requires screws or pegs to attach the dobby bars (sold separately). Simply attach the dobby bar with a screw for a non-lift or a peg to lift the first or last harness. 
Can be used with any size loom or number of harnesses.
PLEASE NOTE: Metal chain links are no longer available for the dobby bars.