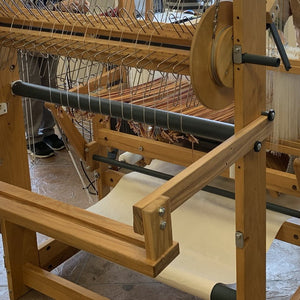 The AVL Track and Mount is a cleverly designed mechanism that allows the tension box or selvage rollers to be slide along the width of the loom to any position required. The end result is faster and easier warping via your cone or spool rack and tension box. The track and mount is designed for quick and easy removal and is compatible with AVLs line of beam winders.
Features:
Compatible with AVL Tension Box and AVL Selvage Rollers
Includes mounting studs for quick-release.
Same price for all size looms. Just provide loom serial number.
Durable Ash hardwood.
2-year AVL warranty.
Compatible with:
A-Series 
K-Series
V-Series
Workshop Dobby Loom
Studio Dobby Loom
Rug Loom
Industrial Dobby Loom
Made in Chico, California.