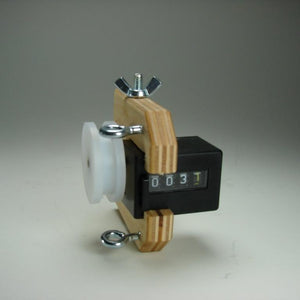 NOTE: THIS DEVICE IS BEING OBSOLETED. PLEASE ORDER THE DIGITAL YARN LENGTH COUNTER INSTEAD.
A handy device for keeping accurate count of yarn length. The AVL Yardage/Meter Counter is designed for use with the Electric Bobbin Winder to track weft usage, or with an AVL Tension Box to measure warp length. Simple to use, it can be installed or removed from its holding bracket in seconds. Never run shy of warp again--add an AVL Yardage/Meter Counter to your tool kit.
Features:
Mounts to AVL Electric Bobbin Winder or Tension Box
Easy to use - just loop yarn around the pulley and pull to measure length.
Choose between Yardage or Meter counting in the drop down menu.